The 2018 Toyota Camry, which is assembled at Toyota Motor Manufacturing in Kentucky, is the first vehicle inspired by the Toyota New Global Architecture (TNGA) to be assembled in North America. By 2020, Toyota expects that half of all new Toyota models worldwide will benefit from TNGA.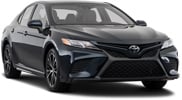 At its essence, TNGA is based on two pillars: Core Strength and Emphasized Personality. Core Strength, which is the platform on which each vehicle is built, is shared across multiple models. By sharing these components, engineers are then able to turn their attention to highlighting each model's unique, individual appeal -- which Toyota calls Emphasized Personality.
The goal is to build better vehicles while making the company's manufacturing plants more flexible and better able to adjust to changes in the market. That leads to cost savings that will be reinvested into developing technologies that lead to even-better vehicles -- with the process continuing anew.
If you're interested in learning more about the 2018 Toyota Camry and TNGA, contact Ronnie Ward Toyota of Ruston.